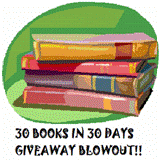 Deena  from the awesome site "A Peek at My Bookshelf"  is being a book genie and giving away 30 Books in 30 days.  She's a prayer warrior and a great lady.  I know there is probably a way to make the above button take you to her site for details, but I haven't figured that out quite yet so go here for giveaway details.
Also, as of today my sweet girlies Jess, Dani, Eileen, Jenny, Lisa  , and Gail, become Deb Founders as they usher in the 2009 class of new Debs at the Debutante Ball to fill their debut writer dance card.  The gloves have been passed.   This amazing grog with these lovely gals is an amazing site for voracious readers.  I owe these ladies my heart so check out their sites. 
The grog has been up and running since 2007, and two of the founding Debs  the lovely little bird of paradise Mia King and my sugarplum "other Kristy," (that would be novelist extraordinare Kristy Kiernan)  both these sweet souls sent me their scrumptuous 2nd novels to feast on.  Kristy has written the gorgeous "Matters of Faith" which is 5 star dining for a reader's soul, and she has become an amazing friend.   I  was enamored with Miss Mia when I discovered her "Good Things" and she sent an ARC(advanced reader copy) of "The Sweet Life"  I am hoping to buy a copy of "Sweet Life" and send it to on a Hawaii excursion if Mia will sign it for me.  Kristy promised to inscribe her debut "Catching Genius" if I get one and send it to the Sunshine state.  There are authors who mean the world because they  have become friends, amd I will treasure  these personally inscribed novels for the rest of my days. It truly means more than words can articulate :)
Working hard on 4 reviews to post as soon as humanly possible, but still having to take it slow.